How do I Fix corrupted views?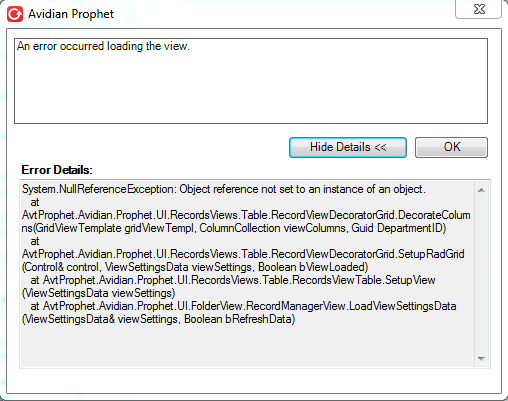 Symptoms
A specific view will not load properly
An error appears while loading a specific view
Solutions
If you are getting errors ONLY when attempting to load certain views within Prophet, this may point to a corrupted view as being the issue. You can use the steps below to recreate your view and resolve your issue.
Step A: Determine Your View Settings
In Prophet
In your Manager Folder, click the '▼' next to the 'View' dropdown box
Highlight 'Tools' and click 'Manage Views...'

In 'Manage Views' click/highlight the corrupted view and then click 'Edit...'

Note all of your settings in this window so we can re-create the view. Once you are done you can click 'Cancel'
Step B: Create a New View
Back in the 'Manage Views' window, click 'New...'

Enter all the details noted from Step A and Click 'OK'

Step C: Delete the Corrupted View
Back in the 'Manage Views' window, click the corrupted view to highlight it
Once highlighted, click 'Delete'

Click 'Yes' on the prompt that appears
Close out of the 'Manage Views' window and attempt to re-load your corrupted view
If problems persist you may need to open a support ticket.
Hidden Content
This board requires you to be registered and logged-in to view hidden content.